A PERFECT FOUNDATION ON WHICH TO BUILD STUNNING SPACES
Looking for luxury vinyl plankSolid hardwood flooring planks are constructed from a single piece of wood which are stable, having consistent color and refined grains. Top Quality Flooring offers real hardwood floors that are known for their durability, the value they add to any project , and how amazing they look in any home.
Top Quality Flooring ⸺ Your luxury flooring showroom
Solid Wood Flooring
Our solid wood flooring solutions offer scratch resistance. All of our styles have protective finishes to shield the planks. Solid oak flooring and solid maple flooring are considered to be the best and come in a variety of natural colors and finishes. Our solid hardwood floors are going to look good for a long time but if you want to give an overall new look, it can take several rounds of sanding and refinishing.
The main species of real hardwood floors are oak, maple, walnut, cherry, bamboo and teak, each with its own distinct color, texture and tone. For better durability, solid oak flooring is the one most commonly used by homeowners.
Why Install Solid Hardwood Floor
There are several reasons to choose solid hardwood flooring from a wider variety of style options, the most obvious being easy installation and lasting peace of mind. It can be a great investment with a reasonable return because it is easy to clean, long lasting and high in demand for both rentals and quick sale properties.
It adds warmth, character and style to any property whether old or new. Realtors believe that a house with solid wood flooring sells better and can actually add 2.5% to the sales price. According to a report (by whom?details to make the figure viable) 54% of buyers are willing to pay more for a house having solid wood flooring.
Easy to Clean
Solid hardwood flooring is incredibly easy to clean
Long-Lasting
Hardwood floors can last for generations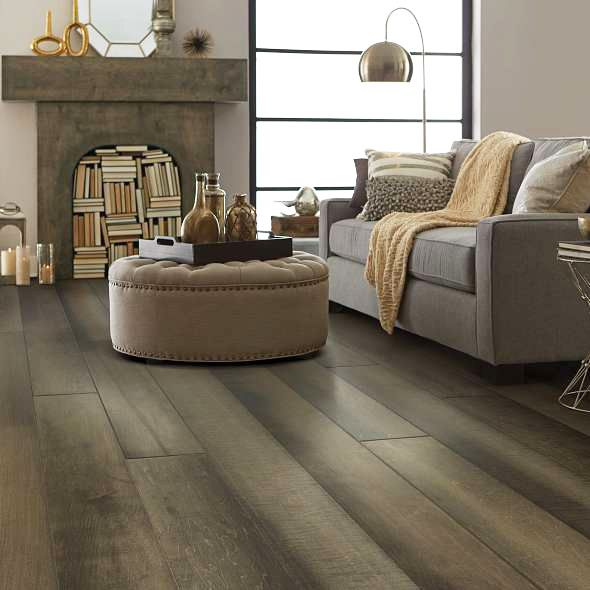 What Is Solid Hardwood?
Solid hardwood flooring is manufactured from one single piece of wood throughout its entire thickness. Different types of tree or species of tree are used to make strong and durable solid hardwood.
Solid wood flooring comes with a tongue and groove, enabling the boards to fit together seamlessly, and usually come unfinished. As it is solid all the way, it can be sanded and refinished several times, giving it new life each time with a longer lifespan.
Solid Hardwood Benefits
More homeowners are turning to hardwood floors for their homes. Some like the classic look of wood flooring while others like the fact that they are easy to clean and maintain.
Let's have a look at some of the important benefits of installing real hardwood floors.
Enhance the Look of Your Home with Solid Hardwood Flooring
Flooring is one of the first things people see when they enter your home – the "wow factor" that is part of the first impression they get when they walk through your door.

Adds Value to Your Home
Aside from other features of the home, solid hardwood flooring can also add a significant value to the property. Normally buyers pay more for a house with hardwood floors – it may help you in selling your house a lot quicker.
Be smart for your flooring solution
Bring Out The Beauty By Solid Hardwood Flooring
Solid wood flooring can bring a plethora of benefits to your home aesthetic, style, environment and functionality. If you are interested in switching up your flooring, don't forget to consider our solid hardwood floors. It will not only upgrade your home style, it will help improve your family health while becoming a great timeless investment in your property.
No repeated fixed pattern anymore!

Solid hardwood flooring can be refinished rather than replaced

Wood floors are easier to clean, maintain, and are long-lasting

Solid oak flooring is considered as strong and more durable as compared to other floorings