A PERFECT FOUNDATION ON WHICH TO BUILD STUNNING SPACES
Stepping into a room with hardwood flooring underfoot is luxurious. Hardwood floors are durable, rich in color, and breathtakingly beautiful. Our hardwood floor store, offers a huge selection of flooring solutions and professional flooring services, making us a top choice for designers and installers looking to install hardwood floors in residential and commercial properties in Toronto.
Top Quality Flooring ⸺ Your luxury flooring showroom
Hardwood Flooring Store
Our collection includes both engineered wood flooring and solid wood flooring. We offer a range of magnificent hardwood flooring products that are built to last for a very long time.
If you are interested in hardwood flooring for your home, office, or place of business, don't hesitate to contact us. We'd be happy to discuss your options and provide you with a free estimate for installing hardwood floors.

We offer commercial hardwood flooring installation for retail shops, offices, restaurants, banquet halls, and other business premises. We have handled commercial projects of all sizes with minimum downtime, and completed the installation process quickly and efficiently, with minimum impact on commercial activity.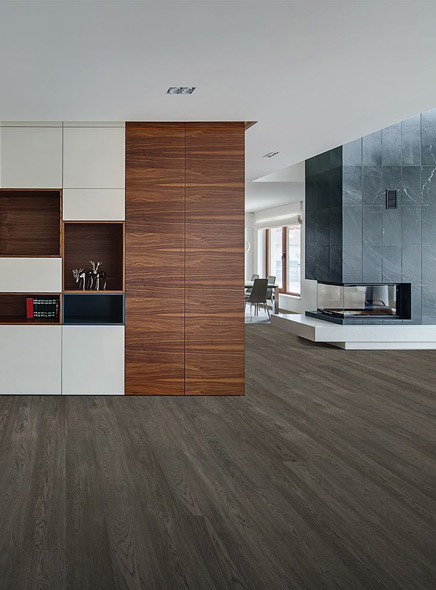 Solid or Engineered Hardwood?
Solid wood flooring (as the name indicates) is all wood and can be sanded and refinished to give the look of a brand new floor time and time again. Treated and sealed with a protective coat, these solid wood flooring planks are exceptionally durable and long-lasting.
Engineered hardwood flooring has an upper layer of wood that is glued to several layers of wood (like plywood) underneath. This ensures stability to the plank making it an ideal choice for any area of the home. Depending on the thickness, engineered wood flooring can only be sanded once or twice during its lifetime.
Installing Hardwood Floors
With more than 30 years of experience working with different species of wood, our skilled craftsmen know everything there is to know about engineered wood flooring and solid wood floors. We are specialized in custom hardwood installation and can match or complement your pattern, border designs, mixed species, and custom-painted wood floors.
We strive to provide top-notch service that fits your timeline and budget. Contact us today to get a free quotation on installing hardwood floor. In addition, we also offer vinyl, laminate, tile, and eco-friendly flooring options at our hardwood floor store in Toronto.
Cost Of Hardwood Flooring
The main factors that affect the cost of solid and engineered hardwood flooring are:
Warranty and support
Wood grade and sustainability
Wood thickness
Width and length of the plank
Prefinished, sanding, or finishing on site
The durability of the protective coating
Glue-down or floated
See how you can transform any space with solid or engineered wood flooring at an affordable price. We offer flooring solutions that are sustainable and cost-friendly. We have multiple flooring brands to meet the requirements of any project. Our warehouse is well stocked with top of the line brand names and ready for immediate delivery.
Be smart for your flooring solution
Benefits Of Hardwood Floors
Hardwood flooring has more benefits than other flooring solutions. It adds warmth and style to any property, new or old. Although it has a slightly higher upfront cost as compared to other flooring solutions, hardwood flooring is a long-term investment that is appreciated by homeowners and buyers alike.
It is easy to clean and maintain. A quick sweep or mop can pick up just about anything you drop. It always looks great with minimal effort.

High-quality floors like oak flooring and maple flooring can last for a generation. It is easy to repair scratches and refinish the hardwood floors.

Wood flooring is elegant and adds a touch of class to almost any home décor. A wide range of grains, textures, and colors complement most design styles perfectly.

A home with hardwood floors not only sells at a higher price but speeds up the decision making process for buyers who see it as an asset. Homebuyers tend to prefer homes with wooden floors as compared to other floorings.